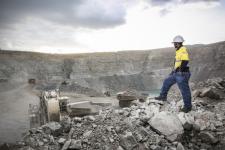 Is Acacia Getting Its CSR Act Together In Tanzania?
Saturday, 31 October, 2015
Tanzania is a relatively easy country for mining companies to operate in.
It was opened up as a mining province in the 1980s and 1990s by British and Australian entrepreneurs like Algy Cluff and John Park amongst others, and has since become one of Africa's major gold producing nations.
But it hasn't always been plain sailing, and especially not when major companies haven't taken account of local sensibilities.
The most famous instance of this relates to Barrick and its spin-off African Barrick which eventually changed its name, after a surfeit of negative publicity, to Acacia Mining.
Acacia rubbed the locals up the wrong way from the get-go at its Bulyanhulu, Buzwagi and North Mara mines, and the worst of it all was that other mining companies could see it happening but were powerless to stop it.
The most prolific gold producing area in Tanzania is in the north of the country and is known as the Lake Victoria Goldfields.
And yet, African Barrick chose to site its operational headquarters in the south of the country, in the capital Dar Es Salaam. A good place to keep government contacts fresh and pliable, maybe.
But not a good place on which to oversee some of Tanzania's most major industrial undertakings.
In 2013, two people were killed at North Mara, in what some elements of the mining press termed as an "invasion" of African Barrick's mine. Police fired teargas into a crowd of 4,000 people.
Before that, seven people had been killed in 2011, after an "invasion" mounted by around 800.
And earlier this year, villagers in the vicinity of North Mara took a case relating to the deaths of six people that took place in 2008 to the high court in London, and won their case.
African Barrick isn't exactly representative of the mining community in Tanzania, but it is emblematic of what can go wrong if executives barricade themselves inside gated communities while their own projects turn into war zones.
One big bone of contention at North Mara was simply the right of traditional artisanal miners to continue on with their work of scavenging small amounts of gold from the surface of African Barrick's ground.
Artisinal mining can be the bane of many a mining company's existence, although it's also a good indication in the early stages of exploration that companies are looking in the right place.
If artisinals arrive in great numbers, the disruption to operations can be significant, and although in theory proper security measures should keep illegal artisans out of legitimately-held mining company property, in practice it's never that easy.
Local politics is essential to keep artisans on side, and it's essential to keep artisans on side so as to avoid death and destruction on the scale of what happened at North Mara.
Technically, yes, the artisans were stealing African Barrick's gold.
On the other hand, as one of the great mining companies operating on the continent, African Barrick is beholden to the local population to behave in a responsible and sustainable manner.
Belatedly, African Barrick, or Acacia as it is now, appears to have recognised this.
In 2015 the North Mara mine was named as the overall winner of the 2015 Presidential CSRE (Corporate Social Responsibility and Empowerment) awards, to the evident satisfaction of chief executive Brad Gordon.
"Improving our relationships with the communities around our mines has been a key focus for
Acacia, and these awards highlight the progress we have made to date and are testament to the efforts of the leadership teams at the mines", he said.
"We believe all of our stakeholders should benefit from our operations and will continue to work with the communities around all of our mines to provide further opportunities for alternative livelihoods and infrastructure improvements."
Whether this is all anything more than high-level window-dressing remains to be seen.