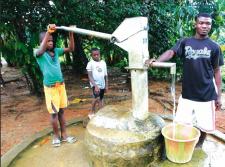 Equatorial Palm Oil's Sustainability Report is a signpost for future generations
Saturday, 28 November, 2015
George Monbiot recently made a splash in the Guardian with a feature on the slash and burn forestry techniques used in Indonesia, partly in order to clear the way for logging and pulpwood production, and partly to facilitate the planting of palm oil.
Throughout the article Monbiot used the phrase "eco-apocalypse", and in spite of the Western media's current near-sighted focus on terrorism, it's a term that's increasingly likely to grab the headlines in the years and decades to come.
It's not just that the destruction of rainforest destroys wildlife habitat and pollutes the air that Indonesia's children breathe. It's that rainforest is an important store of the world's carbon, and if there's to be any prospect of halting global warming in its current guise then that carbon needs to stay where it is.
With all that as a backdrop, the prospects of the palm oil industry getting a bad rap have never looked more certain.
Which is why it's important for those who do stand out from the crowd, like Equatorial Palm Oil, really to distance themselves from this sort of story and this sort of narrative as much as is humanly possible.
Equatorial Palm Oil is a long way away from the current flashpoint in the South China Seas, located as it is in the West African country of Liberia.
But it's well aware that it needs to establish its sustainability credentials good and early, before either international environmentalists or local activists come gunning for it on the back of a wider agenda, never mind that it doesn't actually doesn't apply here.
That's why the company has been making strenuous efforts in terms both of environmental and community sustainability, and why it's been careful to ensure that the wider world knows about it.
As part of those efforts Equatorial Palm Oil has just put out its Sustainability Report for 2015, and a mighty tome it is too.
Over the course of 79 information packed pages – here – it lays out in considerable detail just exactly why as a palm oil company operating in Liberia it represents a force for the good.
The section headings in themselves are telling enough: EPO and the Roundtable on Sustainable Palm Oil, EPO and the sustainable Palm Oil Manifesto, Community Engagement, and Certified Sustainable Palm Oil  - Why?
That's just a representative sample, but the overall impression that the document gives is that here is a company that has gone into considerable depth in terms of investigating exactly what impact its operations are likely to have on the world and to making sure that impact is as beneficial as it can possibly be.
For a start, let's get one thing clear.
Under Equatorial Palm Oil's sphere of influence the slashing and burning of hundreds of acres of forestry is not countenanced.
Indeed the company's two main plantations in Liberia are not new, they were acquired from someone else in the past few years and have existed in one form or another, and allowing for the effects of the recent civil war, for many years.
What Equatorial Palm Oil is doing is reactivating an opportunity for a commercial venture that has long been known about, and which has long been fully licensed.
Indeed, in response to a study commissioned by supporters of the palm oil industry's Sustainable Palm Oil Manifesto, the company has modified its land development procedures.
This study, which focuses specifically on high carbon stock forests, is known as the HCS study.
It's being run by a former chief of research of Australia's widely-respected Commonwealth Scientific and Industrial Research Organisation (CSIRO) and is aimed at determining appropriate methods to estimate carbon stock where the cultivation of palm oil is proposed while also having a care for the needs of the local communities.
This study, although not complete, is already having an impact, not least on Equatorial Palm Oil's own operations.
"EPO has agreed to suspend all new land development at potential HCS areas", reports the company in its Sustainability Report.
The company will now wait for the completion of the report and, in addition, consult with the Liberian government.
But of course, it's not as simple as all that.
This suspension of development work has meant that the company is no longer confident that it will hit its targets in regard to local employment and training.
The significance of this becomes more pronounced when the next section of the report is taken into consideration. In the past, Equatorial Palm Oil has faced some pretty serious allegations as to its practices on the ground.
The charges have included "land-grabbing" and abetting in the suppression of protest by the Liberian police. In response, the company has initiated a detailed programme of community consultation and undertaken a detailed survey of grievances held by the local community.
It's worked to formalise its grievance and interaction process with all land stakeholders in the vicinity of its operations. The process and progress of these programmes are laid out in considerable detail in the section of the report entitled: 2013-2015 Land Issues: Problems and Resolutions.
Meanwhile, on the positive side of the ledger, the company notes that the uptake among women of the offer to partake in the adult literacy programmes it runs has been very high. It's also running what's known as outgrower programmes, under which small-scale growers of palm oil are allocated land.
If all that sounds a bit dry, here's a comment from one of Equatorial Palm Oil's own local employees, talking about the benefits of having the company operating in the area.
"There's a positive impact", says Baccus M Wiah, a documentation clerk on the company's Butaw Estate.
"Due to the presence of the company here we have 353 workers. That's positive. Because of the company we have a free school running here; all the workers' children attend the school. Even the community residents not working with the company have the opportunity to send their children to the school free of charge. And even our clinic is free of charge, for workers and non workers. We build feeder roads and bridges, creating means for villagers to come to town and bring their crops and other things for sale."
There may still be arguments ahead, but testimony like that is hard to refute.