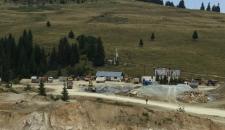 In Romania All The Surprises Have Been Positives, Says Roy Pitchford
"I live in Bucharest," says Roy Pitchford of Vast Resources.
Nothing so unusual about that, you might think.
But Roy is a son of Africa, born and bred there and renowned for running several successful mining ventures across the southern part of the continent.
So for Roy to end up in Bucharest is something of a turn-up for the books.
He's done it for managerial reasons of course, but within the broad envelope encompassed by that term there's also a fair degree of community and social relations thinking too.
As a man who's run businesses both in South African and in Zimbabwe, Roy knows from hands-on experience the importance of keeping locals on-side in allowing your business to run smoothly.
But when he took over at Vast he was faced with a choice.
The company had formerly been known as African Consolidated Resources, and still had a sizeable southern African mining portfolio.
But it also had some intriguing Romanian properties.
The smart money would have had Roy deciding to live in Africa and run the Romanian properties remotely.
But the smart money would have been wrong.
In Roy's mind, once he'd taken a measure of the respective African and Romanian portfolios, the more to Bucharest was inevitable.
Because all told the Romanian assets were the more attractive and as such would acquire more management.
And there was also the cultural and community element of a London-listed company operating in Romania.
"I need to understand Romania", he says. "To run Zimbabwe by remote control is easy because you know it so well. To run Romania would be impossible."
After all, for all its specific challenges, culturally, linguistically and even commercially there are great similarities between Zimbabwe and the UK.
The same is not true at all of Romania.
"The principal challenge is that for decades they've done things a certain way", says Roy. "We respect and are sympathetic to the Romanian culture. But we will now be introducing mining best practice, international best practice and health and safety."
How will that go down?
Here's where the sensitivities come in, and where Roy's move to Bucharest starts to make a lot of sense.
One of the changes to working practices Vast intends to make is to ensure that mills are never switched off.
"They need to appreciate that you never need to turn the mill off", says Roy. But of course those used to working certain schedules, hours and days of the week might find such changes disruptive, to say the least.
The trick is to handle these issues with sensitivity and tact and to believe that it's possible to find a way through.
Many industry watchers will be aware of Romania as an investment destination only through knowledge of the ongoing spat between Gabriel Resources and the Romanian government.
But to counter that negative Roy cites a positive story of success and growth: Carpathian Gold has worked up a resource of over 7.4 million ounces of gold and two billion pounds of copper in-country and with a minimum of fuss.
"It's all about your attitude and your approach and how you operate in the country", says Roy.
"To me the fact that everyone regards Romania as difficult creates an opportunity for me."
And he's confident too that the Romanians themselves are responsive to the needs and expectations of the international community, both in terms of investors and in terms of NGOs.
"The Romanians will be changing their regulations and they will be changing their laws", he says.
And in the case of Vast in particular, it's noteworthy that the company is inheriting its Romanian assets from Chinese interests. Roy's already been able to institute some fairly easy but meaningful operational improvements. It'll be interesting to see if he can find any more, and what sort of standing Vast's ability to deploy such expertise allows it with the locals.
At this stage though, Roy remains very optimistic. "So far in Romania all the surprises have been positives", he says.