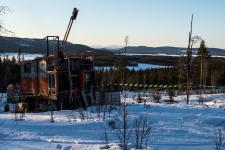 Will Kurt Budge Finally Sort Beowulf Mining's Issues With The Sami?
Monday, 14 December, 2015
One way or another Beowulf Mining has been on the ground in northern Sweden for the better part of a decade.
But although the company name is the same, the faces are different.
Gone are the original progenitors of Beowulf, the cohorts of the late Bob Young.
And gone largely are the original backers too, the likes of veteran mining investor Bruce Rowan, who no longer holds a notifiable interest.
Because one thing that could always be said about Beowulf is that like it or loathe it there was always volume in the stock.
On December's peak day this year, nearly 13 million shares changed hands, and an average day's trading would certainly see several hundred thousand go through the books.
Those who've wanted in have been able to get in, and those who've wanted out have been able to get out.
And there've been plenty of both in over the past year or two, for a couple of very straightforward reasons.
The first is that Beowulf's primary commodity, the iron ore that it holds in copious quantities in the ground at its Kallak project in the Jokkmokk municipality, is no longer worth as much as it once was.
This is not Beowulf's fault. Rather, it's the fault of a combination of collapsing demand from China and continuing oversupply from the major producers BHPBilliton, Rio Tinto and Vale.
The second reason though, if not exactly Beowulf's fault, is at least a little bit more under its own control.
A little bit.
For almost as long as anyone can remember, Beowulf has been having problems reconciling the indigenous Sami reindeer herders to its plans for an iron ore mine.
The Sami get a mixed press in Sweden. But that's largely because they aren't actually a single homogenous group.
Rather, there are a patchwork of different tribal groupings across the northern part of the country, and they behave in different ways because they have different needs and priorities.
Thus, Northland Resources, a not-too-distant neighbour of Beowulf, has never had any conflict with the Sami on its ground.
And other Swedish operators too report a conciliatory attitude from local Sami.
Beowulf has had no such luxury, in spite of the unstinting efforts of former chief Clive Sinclair-Poulton.
Sinclair-Poulton left the top job just over a year ago for reasons that were never fully explained, but the suspicion has to be that the company's lack of progress in conciliating the Sami had something to do with it.
After all, there's not much point in having a huge iron ore project to your name if the local people are likely to blockade you inside your own project.
Sinclair-Poulton tried every trick he knew to get the Sami to the table to no avail.
One year on though, and the management team that's replaced him has at least made some progress.
"Beowulf has in the past had difficult relationships with key stakeholders in Sweden", says the new chief executive Kurt Budge, "and so we've put a lot of emphasis this year on re-establishing the company and its subsidiary Jokkmokk iron mines in the community".
Even so, he also concedes that the company is "not quite there yet".
But the processes by which Beowulf intends to proceed are now in place and clearly visible to all.
The company has been meeting regularly with representatives of four Sami villages as well as with the local landowners association. At this stage, the latter is more supportive than the former, perhaps in part because the landowners have more of an appreciation of the cash that Beowulf has already put up in support of the development of local small and medium sized enterprises.
But Kurt Budge remains optimistic that the Sami will come round, and for what it's worth the UK stock market, which can be relied upon to take a very dispassionate view on such matters, seems to agree.
Bearing in mind the ability of investors to trade in and out of Beowulf as they please, which isn't always the case with smaller mining companies, it's particularly noteworthy that Beowulf's share price has risen around threefold since Budge took over.
Given that the outlook for iron ore is particularly poor at the moment, that upward momentum in the share price can only mean one thing. London money is backing budge ultimately to sort the Sami issue.
He may not be there yet, but watch this space.