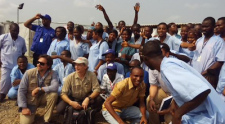 Link: Ebola Digest Wed 4 Feb
Thursday, 5 February, 2015
As we ease into 2015, we'll continue to run these regularly for the time being - the link to the most recent edition of the regular Ebola Digest. 
There's a huge amount of info in this excellent resource and we suggest you check out the source. In the meantime we've reproduced the country-specific section of their news digest below, in the hope it may be of particular interest and use to our readers. Today's article image: "Ebola DART members Ward & Miles participate in a survivor ceremony at the Sinje ETU in Liberia Photo: USAID/OFDA"
That link again: http://eboladigest.blogspot.co.uk/2015/02/ebola-digest-wed-2215.html
REGIONAL SURVEILLANCE
Ebola cases on rise for first time this year, WHO says
Reuters--The number of new cases of Ebola rose in all three of West Africa's worst-hit countries last week, the World Health Organization (WHO) said on Wednesday, ending several weeks of encouraging declines across the region. Suspicion of aid workers, especially in Guinea, and unsafe local practices were continuing to hamper efforts to halt the deadly virus, the United Nations agency said. "An unsafe burial that took place in early January in the (Guinean) eastern prefecture of Lola, on the border with Côte d'Ivoire, has so far resulted in an outbreak of 11 confirmed cases," it said. Investigators had been initially rebuffed by the local population, it added.
More on rise of Ebola cases: BBC
Liberia
New Ebola Death Reported In Margibi
Margibi County Health Officer has announced a new Ebola death in the county following nearly one month of no new case. Dr. Adolphus Yeiah told the Liberia News Agency Wednesday that the victim came from the St. Paul Bridge Community in Monrovia ;...
Keep Surveillance On Ebola Contacts
All africa--ON MONDAY OF this week, the Assistant Minister for Preventive Services at the Ministry of Health, Tolbert Nyenswah, alarmed that the continuous escape of people considered possible Ebola contacts poses a serious threat to the ongoing fight against the virus in the country.
Sierra Leone
Sex crimes up amid Ebola outbreak in Sierra Leone
(IRIN) - Reports that rates of sexual assault and teenage pregnancy have soared in Sierra Leone since the start of the Ebola outbreak have prompted the government to plan a raft of measure to protect girls and the UN to investigate the scale of the increase.       
Sierra Leone officials criticize travel relaxation
AP--Although Ebola cases are declining in West Africa, Sierra Leone officials are worried that the president's decision to lift travel restrictions may re-ignite the spread of the deadly disease. President Ernest Bai Koroma two weeks ago announced a relaxation of travel restrictions to support economic activity. Some officials agreed that the closure of roads hurt the economy. Others felt it was too soon. "It was slightly too early," Freetown Mayor Franklyn Bode Gibson said Tuesday. "We do not know who is safe and who is not," and a second outbreak of the disease would be disastrous..
Ebola Situation Update: 26 January ? 2 February
OXFAM has published some lessons learned about the management of the crisis by international actors (OXFAM, 28/01/2015). Spread of the disease: The rainy season, beginning in April, will complicate response and could potentially threaten some progress made in the containment of the epidemic.    
Building on the ashes of Ebola in Sierra Leone
It appears that we are eventually winning the war against the dreaded Ebola virus disease (EVD) as the number of casualties from the pandemic is finally on the decrease. (Photo: Zainab Tunkara Clarkson).  
Ebola-hit Sierra Leone's schools to reopen on March 30
Sierra Leone said on Wednesday it would reopen the country's schools on March 30, after a seven-month shutdown to limit the spread of the Ebola virus. Classrooms have been empty since the government announced a state of emergency in July in response to an outbreak which has killed almost 9,000 people in the region, more than 3,000 of them in Sierra Leone. President Ernest Bai Koroma's office said he had granted permission for work to start on "water and sanitation issues, Ebola screenings and psychosocial support", ahead of the reopening. "Thermometers will be made available to all schools to deal with any sudden attack before referral to a holding centre," education minister Minkailu Bah was quoted as saying.    
SITREPS
USAID: West Africa - Ebola Outbreak Fact Sheet #18 (FY 15)
With support from the Government of Germany, a temporary unit for treating non-EVD infections opened in Liberia's capital city of Monrovia on January 23. The Government of Senegal (GoS) reopened land border crossings with Guinea on January 26. The GoS had closed all borders with Guinea on August 21 due to the EVD outbreak and previously reopened air and sea borders with Guinea on November 14. As of January 26, the Government of Liberia (GoL) had reported a total of 21 confirmed cases in the last 21 days—eight cases from Grand Cape Mount County and 13 from Montserrado County.