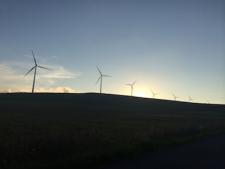 Guest piece: Mining's surprising turn to Solar & Wind Energy
This guest piece is courtesy of Joseph Kirschke, former news editor at Mining Media International, a Jacksonville-based publishing house, now a consultant advising mining companies on CSR .
The mining industry's surprising turn to solar and wind energy
By Joseph Kirschke
When mining professionals the world over descended on Toronto's 2015 Prospectors and Developers Association of Canada Convention (PDAC) at the beginning of March, the investment outlook at one of the industry's most important events was dim . A global economic slowdown and a glut of metals and minerals for construction, infrastructure and energy on the Chinese mainland also cast a long shadow over budgets for sustainability – an increasingly core element of mineral extraction in the 21st Century.
Still, an embryonic CSR narrative is glimmering more quietly within the business – one with seismic possibilities for international investment to turn the tide against global climate change. As glaciers ebb and crops wither , miners in the Americas, Australia and Africa are beginning to economize with solar, wind and geothermal power where grid electricity is expensive – or non-existent.
Chile, the world's great copper producer, is Latin America's green pioneer thanks to its top industry – with 18,000 megawatts of clean energy now in the pipeline. Its greatest alternative energy source is reflected by a 69.5-megawatt solar photovoltaic project and a 115-megawatt wind farm, both powering Antafogasta Minerals S.A.'s Los Pembales copper mine – in a nation that traditionally imports 70 percent of its energy.
Elsewhere in South America, Toronto's Iamgold uses a 5-megawatt solar farm for its open-pit Rosebel mine deep inside Suriname; the $12 million project, augmenting existing hydropower, was completed under budget in July with a government agreement. In Burkina Faso, the mid-tier miner alleviates drought near its Essakane operation with a solar-powered well for villagers; in the expansive Sahara, the development effectively promotes agriculture, while reducing reliance on artisanal gold mining.
In Africa's largest mining country boasting the world's premiere platinum sector, on the other hand, South African government officials plan to triple electricity by 11.4 gigawatts through a multi-phase, $13 billion alternatives initiative. While the region's powerhouse economy battles rolling blackouts – its state-owned coal-fired plants starved by miners – Harmony Gold Mining Co. Ltd. is harvesting energy via biomass and solar, as Sibanye Gold announced plans for a 150-megawatt solar plant in February.
On another continent, where mining is the fourth-largest energy customer, Australia's Western Cape York Peninsula hosts a Rio Tinto-operated $23.4 million, 6.7-megawatt solar farm at a bauxite mine while providing electricity to an adjacent municipality. Partnering with U.S. firm First Solar, the Anglo-Australian multinational has committed to six percent carbon reduction at its projects; last month, meanwhile, Sandfire Resources unveiled plans for a 10.6 megawatt photovoltaic plant at its DeGrussa copper asset in Western Australia.
Miners in North America are seeing the light, too. At its North Quebec copper-nickel asset, which utilizes more diesel than any other Arctic mine, Swiss-based Glencore plans to reduce fuel use by 2.5 million liters armed with hydrogen fuel cell storage and wind turbines. In Arizona, Phoenix-based Freeport McMoRan Inc. uses 15 megawatts of solar at its Bagdad copper-molybdenum project.
As emerging market demands wane, driving prices for mineral commodities to record lows, fresh investment from a new class of climate change-focused actors is increasingly ripe. Indeed, social impact entrepreneurs, ethical funds and philanthropists like Bill and Melinda Gates – alongside larger financial institutions including Norway's Sovereign Wealth Fund – have already been at the forefront of a worldwide renewable energy revolution.
When it comes to influencing the world's mining companies to employ alternative energy to industrial scale, though, considerable obstacles persist: Many national governments, notably, lack regulatory frameworks or practical, consistent laws incentivizing miners to use renewables – caps on carbon emissions from coal-fired power plants being an Obama administration hallmark.
Then there are mines themselves: many are huge, complex, often-dangerous operations in increasingly-remote locales where miners are usually armed with uneven resources – while energy already devours up to 60 percent of balance sheet costs.
Perhaps the biggest challenge, however, is the core nature of mining itself. Brimming with unassuming, stubborn and hardworking engineers, accountants and miners inward as their own projects, it's one of the world's most misunderstood callings – more associated with environmental catastrophe, human rights scandals and community upheaval than being elemental to our daily lives.
How socially conscious investors, philanthropists and larger CSR-oriented financiers and institutions can help energize miners to re-align costs in the name of global warming remains unclear. Fossil fuels and other non-renewable energy, after all, have provided cheap, reliable power at their mines for generations – and to most of them, that's just fine.
But there are thousands of mechanized mines on our planet's surface – and we ignore their synergy with its atmosphere at our own peril.
ENDS
IMAGE: CSR21