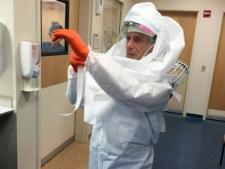 Link: Ebola Digest Wed 1 April
Wednesday, 15 April, 2015
As 2015 rumbles on, and even as the epidemic abates, from time to tim we'll run these - the link to the most recent edition of the regular Ebola Digest. There's still considerable risk attached to the aftermath of the epidemic and those active in West Africa (and elsewhere) would do well to keep abreast.
There's a huge amount of info in this excellent resource and we suggest you check out the source. In the meantime we've reproduced key sections of their news digest below, in the hope it may be of particular interest and use to our readers. Today's article image (reproduced from the blog): US-based NIH Doctor Anthony Fauci donning his protective suit to treat a US healthcare worker with ebola.
That link again: http://eboladigest.blogspot.co.uk/2015/04/ebola-digest-wed-412015.html
INTERNATIONAL RESPONSE
Remaining U.S. troops in Liberia committed to stamping out Ebola
Military Times--The small number of troops that remain in Liberia for Operation United Assistance have one duty left to carry out — to no longer be needed. For the remaining 100 U.S. personnel supporting Ebola-related contingencies in Monrovia — down from 2,800 who have deployed to the region in the last six months — the mission is to monitor cases as they tick down to zero and stay there. And their time spent in Liberia depends on that fact alone.
"Our deployment is open-ended," said Army Col. Sven Erichsen, commander of the 48th Chemical, Biological, Radiological and Nuclear Brigade.
Ebola diaries: Regaining the people's trust
WHO--    "We flew on this tiny aircraft and arrived in the middle of nowhere. There was a landing strip and nothing much else - large spaces dotted with trees, savannah land, you also had these little constructions around. That was 'the airport'. Then there was a 2-hour drive down a really difficult road into Gueckedou. When we got there we immediately started, met up with the head of the health unit, Dr Pépé Bilivogui. He was the local head of the response there and he was just one of the best people I ever worked with. Ebola was totally new to him and everyone else there. Not only the population, the health care workers but also the government responders were totally taken aback by this disease. He told me they really relied heavily on WHO for advice and help.
Vaccination must be scaled up in Ebola-affected countries
WHO--    A growing risk of outbreaks of measles, pertussis, and other vaccine-preventable diseases in countries affected by Ebola must be countered by urgent scaling up of routine immunization activities, according to the World Health Organization (WHO). "We are calling for the intensification of routine immunization services in all areas, and for mass measles vaccination campaigns in areas that are free of Ebola transmission," says Dr Jean-Marie Okwo-Bele, Director of Immunization, Vaccines and Biologicals at WHO.
LESSONS LEARNED
Ebola Hits Youngest Victims the Hardest, Report Finds
NBC--Ebola takes hold quicker in the very youngest patients and kills more of them, a new report finds. The death rate among babies ranges from 85 to 90 percent among babies under age 1, the World Health Organization's Ebola Response Team, led by Christopher Dye, found. "The case fatality rate was lowest among children between 10 and 15 years of age and highest among those 4 years of age or younger," they write in a letter to the New England Journal of Medicine.
As Ebola Crisis Ebbs, Aid Agencies Turn To Building Up Health Systems
NPR--Michelle Niescierenko is a pediatric emergency physician at Boston Children's Hospital. But for the past five months she has been in Liberia, helping the country's 21 public hospitals get back on their feet after the devastating Ebola outbreak there. She says the challenges they face are shocking. A year ago Monday — on March 23, 2014 — the World Health Organization announced that Ebola disease had broken out in West Africa. "Almost all the hospitals that we worked with in Liberia are running on generators," she says. The trouble with generators is that they require fuel.
'Like a sinister family tree' - how Ebola spread: the 4 minute guide
BBC--Hans Rosling, statistician guru, demonstrates the devastating progress of Ebola from a single, solitary case using data from the Ministry of Health in Liberia.
A Visual Guide: Understanding Ebola
BBC--How did the disease start? How did it spread? Statistician Hans Rosling shows you how.
Coping during the Ebola epidemic—and beyond
Harvard--Epidemiologist and infectious disease immunologist Mosoka Fallah, MPH '12, has been on the front lines for many months in his native Liberia battling the Ebola epidemic, which began in December 2013 and spread through several West African countries. He was among the Ebola fighters named Time's 2014 "Person of the Year." In an interview at Harvard T.H. Chan School of Public Health, Fallah discussed what he learned during the outbreak and what needs to be done now.
REGIONAL SURVEILLANCE
Benin
WHO's Medical Detectives Work With Health Authorities to Solve a Mystery
Infection Control today--On a hot afternoon in November 2014, Benin's minister of health, Dr. Dorothée Kinde Gazard and World Health Organization (WHO) country representative Dr. Youssouf Gamatié visited the Hôpital de Saint Jean de Dieu in Tanguiéta, in the country's northwest. They were in a somber frame of mind. Four employees of the hospital had died from a severe febrile illness, some with signs of a viral hemorrhagic fever, over a period of two weeks – an event that for public health experts sounds the alarm for an outbreak of a dangerous infectious disease. Given the current Ebola virus disease outbreak in West Africa, one thing immediately came to mind – Benin could become the fourth.
Congo Republic
Deep in the jungle, hunting for the next Ebola outbreak
Washington Post--More than 3,000 miles from the fading Ebola crisis in West Africa, a team of U.S.-funded researchers is hunting deep in a remote rain forest for the next outbreak. They aren't looking for infected people. They're trying to solve one of science's great mysteries: Where does Ebola hide between human epidemics? The answer appears to lie in places such as this — vast tracts of African jungle where gorillas, bats and other animals suspected of spreading the virus share a shrinking eco­system. If scientists can pinpoint the carriers, and how Ebola is transmitted between them, future epidemics will be easier to anticipate — or even prevent.
Guinea
Guinea finds three Ebola cases in the alumina hub of Fria
Reuters--Guinea has detected at least three new cases of Ebola in the alumina hub of Fria, according to the national coordination of the fight against the disease, as authorities blamed popular resistance for hampering the battle against the virus. The worst detected outbreak of the disease is believed to have killed more than 10,300 people in West Africa, mostly in Guinea, neighboring Sierra Leone and Liberia, according to the World Health Organization (WHO). In Guinea, more than 2,200 people are believed to have died since the epidemic was first detected a year ago. Some 50 people remain hospitalized in Ebola treatment centers.
Guinea declares Ebola 'health emergency' in five regions
BBC--Guinean President Alpha Conde has declared a 45-day "health emergency" in five regions in the west and south-west of the country over Ebola. The restrictions include the quarantining of hospitals and clinics where new cases are detected, new rules on burials and possible lockdowns. The Ebola outbreak began in Guinea in December 2013.
In January, the World Health Organization reported a steady drop in cases in the three epicentre countries. But renewed concern has been triggered by fresh setbacks in these countries - Liberia, Sierra Leone and Guinea.
Liberia
Liberia Recommends Ebola Survivors Practice Safe Sex Indefinitely
NYT--The Liberian government recommended on Saturday that survivors of Ebola practice safe sex indefinitely, until more information can be collected on the length of time the virus might remain present in body fluids including semen. Previously, male survivors were advised to abstain from sexual intercourse or to use condoms for three months, reflecting that the active virus had been detected for up to 82 days in semen. Acting on new developments, all countries affected by the Ebola outbreak need to consider applying similar recommendations, said Dr. David Nabarro, the United Nations secretary general's special envoy for Ebola.
VOA--For Liberian survivors of Ebola, the struggle is not over.  Many have lost property and family members, and often face tremendous stigma after being released from the hospital. Unresolved medical issues are another problem.  Despite their suffering, they are still waiting for support a year into the Ebola crisis. Finda Fallah's life turned upside down over the course of one week. She lost seven family members. She herself got infected. When she was discharged from an Ebola treatment center in September, her problems did not stop.
U.S.-Liberia Team Plans Study of Ebola Survivors
All Africa--The Partnership for Research on Ebola Vaccines in Liberia (PREVAIL) a Liberia -U. S. research team, plans to launch a natural history study of Ebola survivors to better understand the after-effects of Ebola virus disease. Four sites in Monrovia and locations in the United States may begin enrollment into this study in the coming months.
Sierra Leone
10 Ebola cases found during Sierra Leone's shutdown
Sierra Leone found 10 new Ebola cases during a three-day countrywide shutdown, an official said Wednesday, declaring that the West African country is now at the "tail end" of the epidemic. Hundreds of sick people were identified on Friday, Saturday and Sunday as health teams went door-to-door in an operation that also aimed to remind people how to prevent Ebola. But only 10 of those people eventually tested positive for the disease, said Alfred Palo Conteh, the head of the country's Ebola response. That figure indicates that there were not hordes of hidden Ebola cases as some had feared. By contrast, during a shutdown in September, when the epidemic was raging, more than 260 new cases were found.
Sierra Leone: Ebola Outbreak Updates - March 31, 2015
Government of Sierra Leone