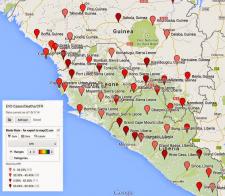 Link: Ebola Digest Wed 14 Jan
As we ease into 2015, we'll continue to run these regularly for the time being - the link to the most recent edition of the regular Ebola Digest. 
There's a huge amount of info in this excellent resource and we suggest you check out the source. In the meantime we've reproduced the country-specific section of their news digest below, in the hope it may be of particular interest and use to our readers. Today's article image is a screengrab of a live map of cases and deaths available here.
REGIONAL SURVEILLANCE
Guinea
Mob kills two men in Guinea suspected of spreading Ebola
Two men were killed and their bodies burned by an angry mob in Guinea convinced that the victims infected a local with Ebola, in the latest violence spurred by the deadly disease, police said Wednesday. Residents of the western village of Dar-es-Salaam attacked a group of three police officers and their driver who stopped there Saturday while on their way to a funeral.
During their visit, one in the group gave a sedative to a local healer who was suffering from an undescribed illness. After the healer died his wife called for help from locals, who responded violently, Guinea police Commissioner Boubacar Kasse told AFP.
In the Guinean town of Nzerekore, Survivors Treat Ebola Patients
Behind a red-netted fence, childcare worker Fanta Camara gives a bath to one-and-a-half year old Massidigbe in the Childcare Center of the Ebola Treatment Unit (ETU) in Nzerekore, in the forest area of southeastern Guinea. It is a good day for the little girl: her mother will be released today from the ETU, where she was being treated as an Ebola patient. Massidigbe's father died of Ebola and she has been under observation at the Childcare Center, which also serves as a temporary zone of observation. All the children here have lost at least one parent to Ebola. Usually they can go home when the parent treated at the ETU is release and if they do not develop any symptoms of the disease after a couple of days.
Liberia
President Sirleaf Receives Special United Nations Ebola Assessment Team
President Sirleaf Receives Special United Nations Ebola Assessment Team to ... The head of Ebola assessment team, Stan Nkwain briefs President Sirleaf during a meeting on January 13, 2015.    
CLA Committed to Eradicating Ebola From Liberia
CLA Committed to Eradicating Ebola From Liberia The Center for Liberian Assistance (CLA), a Non-governmental Organization has committed itself to the President's Ebola Must Go Campaign. According to the Head of the organization, Madam Hawa Bropleh, her group will continue to help in the fight against ;...
Liberia: 12 Counties reports zero Ebola cases
Liberia's health ministry has disclosed that 12 of the country's 15 counties have for the past seven days reported ?zero? Ebola cases.Making the disclosure in Monrovia Wednesday, assistant Health Minister for Preventive Services Tolbert Nyenswah said such news is encouraging, but warned that any number above zero is a case too much in the country's [...]
Ebola in Liberia could end by June, says new epidemic model  
Ebola in Liberia could end by June, says new epidemic model A new computer model that takes into account not only features of the virus and how it transmits, but also what is being done to halt its spread, predicts that the Ebola epidemic in Liberia could end by June if current high rates of hospitalization and surveillance ;...
Thousands of Ebola Workers Paid in Liberia
UNDP has helped the Liberian government pay thousands of Ebola workers. Over $1 million dollars in cash payments were distributed across the country in January alone.
Liberia 'Still Negotiating Contracts Amidst Ebola Crisis
Liberia 'Still Negotiating Contracts Amidst Ebola Crisis' Monrovia ??? The Executive Director of National Investment Commission George Wisner has disclosed that the Commission is currently negotiating with foreign investors aimed at signing contracts in attracting revenues for the country, despite the deadly Ebola ;...   
Sierra Leone
Ebola takes mental health toll where 'life has frozen' in Sierra Leone
Guardian--Ebola is causing mental health problems in Sierra Leone, with the country's overstretched health system unable to deal with the psychosocial legacy of the outbreak, according to a report by the International Medical Corps. Fear, panic, stress, shame and isolation are increasingly common feelings, says IMC, an NGO that conducted interviews, focus groups and surveys in the town of Lunsar – the capital of Port Loko and one of the worst-hit districts in the country. The area was neglected in the earlier stages of the outbreak before IMC opened a hospital in December.
Sierra Leone Red Cross Volunteer Dies of Ebola
The ‪Sierra Leone‬ Red Cross has lost its first volunteer to ‪Ebola‬ since the start of their intervention in September. The unnamed nurse who worked at the IFRC Ebola treatment centre in Kenema died yesterday and was confirmed positive for Ebola. An investigation has been launched to determine how they got infected. "We are extremely grateful for his work and dedication to the Red Cross, and to the fight against this deadly disease," says IFRC secretary general, Elhadj As Sy, Secretary General, IFRC. "The death of a Red Cross staff member underscores how those who respond to the Ebola outbreak are on the front lines of this crisis - risking their health and, in some cases, their life, to assist those who are affected by the disease," Sy says.
Ebola, Secret Burials and Secret Society Covenants
Ebola, Secret Burials and Secret Society Covenants We have tried in every way to end the Ebola Virus Disease. Apart from our own efforts as a Government and people, the International Community has joined us in this fight against Ebola. A lot of money has been poured into this fight, both from within and ;...
S/Leone: MP faces action over flouting Ebola Bye-laws
An opposition parliamentarian in Sierra Leone`s southern district of Pujehun faces legal action for flouting bye-laws imposed to contain the spread of the Ebola epidemic.Dickson Momoh Rogers is accused of organizing a musical show on Christmas Day, in contravention of a presidential declaration. The coordinator of the District Ebola Response Committee (DERC), Ali Bao, was [...]   
No New Ebola Cases by March End, Says Sierra Leone's President
No New Ebola Cases by March End, Says Sierra Leone's President Freetown: Even as his country registered 19 new Ebola cases over a 24-hour period, Sierra Leone's President is predicting there will be zero new confirmed cases by the end of March. President Ernest Bai Koroma also predicted that his West African country ;...
Sierra Leone News: Lion Mountain Charity feeds quarantine homes
Sierra Leone News: Lion Mountain Charity feeds quarantine homes He made it clear to both inmates and community members that being under quarantine is not a confirmation that the inmates are sick or a way of punishment by the government, rather, it is a way of containing a further spread of the virus disease should any... 
Radio Lessons for 1.5 Million Children in Ebola-Hit Sierra Leone
Any views expressed in this article are those of the author and not of Thomson Reuters Foundation. MORE than a million children unable to attend school in Sierra Leone due to Ebola are now able to get lessons over the radio.
SITREPS       
Sierra Leone: Ebola response roadmap - Situation report update 14 January 2015
Guinea reported its lowest weekly total of new confirmed Ebola virus disease (EVD) cases since the week ending 17 August 2014. Case numbers remain low in Liberia, with no confirmed cases nationally for the final 2 days of the week ending 11 January, and the lowest weekly total of confirmed cases since the first week of June 2014. Sierra Leone has now reported a decline in case incidence for the second week running, and recorded its lowest weekly total of new confirmed cases since the week ending 31 August 2014. Each of the intense-transmission countries has sufficient capacity to isolate and treat patients, with more than 2 treatment beds per reported confirmed and probable case.