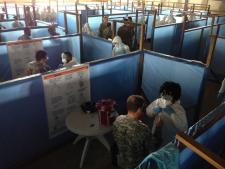 Link: Ebola Digest w/e Friday 23 Jan
As we ease into 2015, we'll continue to run these regularly for the time being - the link to the most recent edition of the regular Ebola Digest. 
There's a huge amount of info in this excellent resource and we suggest you check out the source. In the meantime we've reproduced the country-specific section of their news digest below, in the hope it may be of particular interest and use to our readers. Today's article image is an ebola 'maze' being used as a training environment for health care workers by the US military in Liberia.
That link again: http://eboladigest.blogspot.co.uk/2015/01/ebola-digest-fri-12315.html
REGIONAL SURVEILLANCE
Guinea
School's Back On In Guinea: Reading, Writing, Temperature-Taking
NPR--At the crack of dawn, the Sow family — parents and four children, two girls and two boys — are up at their home in Conakry, Guinea's capital. Sitting on a wooden stool, Aissatou Sow bends over to light a gas stove on the floor and heat up a breakfast of fried fish, vegetables and french fries, plus hot milk and fruit. El Hadj Alhassane is 11; his sister Hadja is 6. They're off to school after being out of class for six months.
Anger, mistrust in Guinea villages hinders battle to beat Ebola
Reuters--Angry residents are blocking access for health workers to dozens of remote villages in Guinea, in a sign of persistent mistrust that could threaten President Alpha Conde's aim to eradicate Ebola from the country by early March.    
Liberia
As Ebola Slows, UN Builds Treatment Clinics Despite Criticism
Liberia may be winning its war against Ebola, but ongoing construction on new patient treatment centers has left some discontented. "It just makes no sense," Laurence Sailly told The Washington Post. Sailly, the head of mission for Doctors Without Borders in Liberia, is part of a pool of officials claiming the new centers are and will be inconsequential -- merely reflecting the international community's belated reaction to an epidemic that is now under control. Liberia only detected eight cases of the disease last week -- dramatically down from more than 300 a week in September -- according to the World Health Organization.
Liberia: A big fund for helping to stop ebola
Finnish Church Aid (FCA) has signed a significant contract with US government agency USAID and British NGO Mercy Corps. The aim is to improve infection prevention in Liberia, a country still fighting Ebola virus disease. The state in Liberia is fragile and the Liberians can often be distrustful of authorities. All communities still don't have the information needed to stop the transmission of Ebola and false rumors spread around. FCA will train community mobilizers to spread the right information from door to door to inform communities. Leaflets and radio will also be used in the battle against Ebola.     
Just 5 Ebola Cases Left in Liberia, Government Says
scientific american--Liberia, once the epicenter of West Africa's deadly Ebola epidemic, has just five remaining confirmed cases of the disease, highlighting the country's success in halting new infections.
Liberia schools to reopen amid warnings that hard work on Ebola is far from done
the guardian--Decline in Ebola cases prompts return to classrooms but Liberian government echoes UN call for international community to make good on funding pledges It would be a colossal mistake for the world to abandon the west African countries worst-affected by the Ebola epidemic in the premature belief that the disease has been beaten into retreat, the Liberian government has warned.Speaking as the World Health Organisation (WHO) released figures showing a continuing fall in cases in Liberia, Sierra Leone and Guinea, Liberia's information minister, Lewis Brown, asked the international community to honour its financial commitments to the region and help it rebuild its shattered health systems.    
[VIDEO] Ebola Fighters of Liberia—Water
UNICEF--Each Ebola patient requires 10 times more water than the average person. UNICEF is delivering massive amounts of clean water to Ebola treatment centers in West Africa. In this video, water and sanitation expert Michael Forson takes us on a tour of an Ebola treatment center in Liberia, where water is essential for disinfection, hydration and sanitation.
Sierra Leone
Sierra Leone: Ebola outbreak: I don't let patients give up
My nickname is Happy Shower, smiles Jestina Boyle, a Red Cross volunteer at the Ebola treatment centre in Kenema, eastern Sierra Leone. Jestina provides psychological and emotional support, particularly to patients at the centre. Through Jestina's encouragement and counselling skills, more patients are going through the so-called happy shower. This is the shower that survivors experience before crossing the threshold from the treatment centre back into the normal world.  
Sierra Leone eases blocks on travel, business as Ebola wanes
Sierra Leone eases blocks on travel, business as Ebola wanes A health official take temperature of a Malian soccer fan for Ebola Virus ahead of the African Cup of Nations Group D soccer match between Ivory Coast and Guinea at the Estadio de Malabo in Malabo, Equatorial Guinea, Tuesday, Jan. 20, 2015.
Sierra Leone lifts Ebola quarantines as crisis eases
Sierra Leone lifts Ebola quarantines as crisis eases People stand on January 19, 2015 outside the Safia in Conakry as students head back Sierra Leone on Friday lifted crippling nationwide restrictions on movement put in place at the height of the Ebola crisis, amid signs that the deadly epidemic was retreating.
Sierra Leone: Emergency Anti-Malaria Drive Reaches 2.5 Million People
Reuters--Sierra Leone has given anti-malaria drugs to more than 2.5 million people in Ebola-affected areas and significantly reduced the number of patients with fever that might have been mistaken for Ebola, the World Health Organization (WHO) said on Thursday.
SITREPS   
UN Mission for Ebola Emergency Response (UNMEER) External Situation Report, 23 January 2015
Davos panel underscores need to guard against complacency in global response to EVD US Ambassador to Liberia hands over primary healthcare centre in Bakedu Response partners continue support to Liberia?s plan to open schools next month Key Political and Economic Developments In Davos, Switzerland, a panel discussion on ?Confronting the Challenge of Catastrophic Outbreaks: What critical lessons can be learned from the 2014 Ebola outbreak to prepare us for the future?? was held on 22 January. Moderating the talks, Peter Piot, the Director of the London School of Hygiene & Tropical Medicine, characterized the EVD outbreak in West Africa as a black swan event.