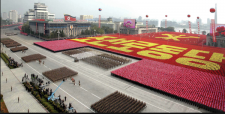 North Korea at HK Mines & Money
At Hong Kong Mines & Money 2015 Mr Roger Barrat from Korea Business Consultants talked about the pleasant surprises he has found in North Korea, which in his view is done down by negative perception in the western media. The good news is that it has a disciplined work force, it's rich and the new leadership is trying to build a new type of economy.  Barrat will be leading several 'missions' to Korea this year including to the 'G2" gold project he is somehow involved in.
Mr Barrat's ability to work in N Korea stems from the fact that: "we are British and don't let sanctions get in the way.'
In terms of hard facts about the place, the people, the project, it's difficult to get an idea of what the People's Republic of North Korea might actually be like. Barrat wandering in and out of microphone range is not entirely helpful.
One thing we did glean from his talk was that a belief that "Politics and business are separate".
No they are not. Certainly not if you read a large 19th Century  document written in the British library by a German political exile.