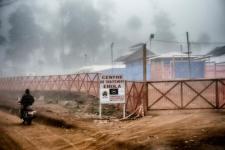 Link: Ebola Digest Thurs 5 Feb
As we ease into 2015, we'll continue to run these regularly for the time being - the link to the most recent edition of the regular Ebola Digest. 
There's a huge amount of info in this excellent resource and we suggest you check out the source. In the meantime we've reproduced the country-specific section of their news digest below, in the hope it may be of particular interest and use to our readers. Today's article image is from the blog: "An Ebola treatment center run by the Alliance for International Medical Action has tested the drug favipiravir. Credit Sylvain Cherkaoui/Cosmos for ALIMA"
That link again: http://eboladigest.blogspot.co.uk/2015/02/ebola-digest-thurs-1515.html
REGIONAL SURVEILLANCE
Guinea
Ending Ebola in Guinea – dialogue remains essential
Community ownership of the response is the key to defeating Ebola. To see how communities are being engaged, UNICEF's Christophe Boulierac travelled to Guinea. Following a visit to the forest region of the country, Christophe visited Kouremalé, near the border with Mali. Upon his return to Conakry, Christophe shared his experience with Timothy La Rose, UNICEF Communication Chief in Guinea. We passed many work camps between Siguri to Kouremalé. They were full of laborers who made their way from other countries in the region to work in the gold mines. I stood 100 meters from the border of Mali. 200 meters away in the other direction was a meeting of the Ebola Rapid Response team—who sat for hours in a hot room discussing the current cases, location of the Community Transit Centre—that would be accepted by the community, and lessons learned.
SECRETARY-GENERAL APPOINTS BINTOU KEITA OF GUINEA EBOLA CRISIS MANAGER FOR SIERRA LEONE
(APO) United Nations Secretary-General Ban Ki-moon today announced the appointment of Bintou Keita of Guinea as Ebola Crisis Manager for Sierra Leone for the United Nations Mission for Ebola Emergency Response (UNMEER). In her role as Ebola Crisis Manager Ms. Keita will work with the host government [...]   
Ending Ebola in Guinea  dialogue remains essential
UNICEF--Community ownership of the response is the key to defeating Ebola. To see how communities are
Liberia
Liberians divided over Ebola vaccine trials
DW--When the trials began in Liberia on Monday February 2, 2015, about a dozen people received the vaccine, according to Wessedi Sio Njoh, Director of Operations with the Partnership for Ebola Vaccination. "Twelve persons for today and hopefully the number will increase as we go along," she said. The hospital where the trials began is located at New Kru Town, a densely populated, poor shanty community. New Kru Town was one of the first parts of the capital to be struck by Ebola.
Sierra Leone
Sex crimes up amid Ebola outbreak in Sierra Leone
IRIN--Reports that rates of sexual assault and teenage pregnancy have soared in Sierra Leone since the start of the Ebola outbreak have prompted the government to plan a raft of measures to protect girls and the UN to investigate the scale of the increase. The outbreak has disrupted many facets of life in Sierra Leone, leading to poor record-keeping and thus a shortage of hard data, but an array of sources, including the police, local NGOs, the government, the UN and young people, all point to a surge in both rape and consensual sex among teenagers, which have led to an increase in teenage pregnancy.
Sierra Leone: The Human Cost of Ebola (part 2)
All Africa--Our CEO visited Sierra Leone last week to visit Save the Children teams and see first hand the continuing fight against Ebola. Here he shares his experiences of meeting Ebola survivors and the human cost of the disease. Yesterday, he wrote about meeting survivors, today he writes about the wider implications of the epidemic on the country. Midwife Virginia safely delivers 30 babies a month at her small clinic. Many mums stopped going to clinics at the height of the Ebola crisis because of fears of catching the virus. If you missed it, Part I is here.
Sierra Leone: Increasing community engagement for Ebola on-air
WHO--WHO's social mobilization team is using radio to reach communities with information about how to prevent the spread of Ebola in Sierra Leone. Zainab Akiwumi in the radio studio of Radio Maria talking about the need to suspend cultural and traditional practices in times of Ebola, Sierra Leone.
ECONOMIC IMPACT
[AUDIO] IMF Grants Help Ebola-hit Countries Drive Down Debt
IMF--The IMF will provide grants totaling $100 million to the three countries worst hit by the Ebola epidemic. Guinea, Liberia, and Sierra Leone will use the funds to cover the cost of servicing their debt.
Doing business in Africa - A focus on the business and economic impact of Ebola
We are one world; we are affected by the well being of our neighbours and our business partners. The stories of human suffering coming out of West Africa are staggering. The human cost of this strange disease, immense. The fall-out of the epidemic is not just health-related. It is also economic. KPMG Africa has collaborated across our health care practices in West, East and Sub-Saharan Africa to explore the impact of Ebola, both on the affected countries as well as on the businesses of some of our key clients.
Microfinance programs: West Africa's next task force?
Microfinance programs could play a critical role in helping Ebola affected communities in West Africa recover — and now that Sierra Leone has lifted its travel restrictions, such programs are seeking ways to get back up and running. BRAC, considered the world's largest nongovernmental organization, has set March 1 as the date it wants to resume operations in both Sierra Leone and Liberia. The organization does not operate a microfinance program in Guinea.
IMF Grants $100M for Debt Relief to Ebola-hit Countries
voa--Guinea, Liberia and Sierra Leone will get close to $100 million in total to pay off their debts to the International Monetary Fund, the first time a global institution provided debt relief to the three countries hardest hit by the Ebola outbreak. The IMF also called on other international creditors to offer further debt relief to the countries to help them deal with the economic fall-out from the devastating epidemic. It also offered them an additional $160 million in zero-interest loans, subject to approval of its board of some debt relief to the three impoverished West African countries so they could spend more on government services and their economies. The IMF does not normally offer grants, only loans. But alongside the announcement on Thursday, it established a special catastrophe trust that would provide a regular way to offer grants to countries hit by epidemics or other natural disasters.
REPORTS FROM THE FIELD
Ebola survivors facing stigma, unemployment, exclusion
UNFPA--After recovering from the near-death experience of an Ebola infection, survivors in Liberia are reporting that their ordeal is not yet over. Many say they are encountering hostility, exclusion and unemployment when they return to their communities. Many survivors are returning home to find their possessions have been destroyed to prevent the spread of virus. Fear and distrust among community members is leading to isolation and loss of income.
[AUDIO] Remembering Victor Robertson Willoughby
BBC--Victor Robertson Willoughby was a leading doctor in Sierra Leone who died from Ebola. His daughter Syerramia, a journalist at the London School of Economics, pays tribute to a beloved parent.
[VIDEO] Photographer Returns From Ebola Zone With Searing Images, Memories
NAT GEO--Photographer Pete Muller recently spent two weeks in Sierra Leone, his second visit to the West African nation since mid-May when the current Ebola outbreak struck the country. Muller, who is based in Nairobi, Kenya, felt compelled to cover the outbreak, which has infected more than 22,400 people and killed more than 8,900 in West Africa. Muller has covered wars and other catastrophes, but in Sierra Leone he witnessed one scene so searing he hopes never to see another like it.
SITREPS
Sierra Leone: The last mile in the fight against Ebola will be the hardest
Returning to New York after a week-long visit to Ebola-affected countries, John Ging, OCHA's Director of Operations, today lauded the heroic work of all those responding to the outbreak, while calling on the international community to not be complacent at what is the most difficult phase in the fight to eliminate the virus. ?I was told repeatedly by partners that the last mile in the fight against Ebola will be the hardest,? said Mr. Ging. ?While remarkable progress has been made, we must not forget that it only takes one new case to start a new outbreak.   
Ebola Virus Disease Epidemic  West Africa, January 2015
cdc--CDC is assisting ministries of health and working with other organizations to end the ongoing epidemic of Ebola virus disease (Ebola) in West Africa (1). The updated data in this report were compiled from situation reports from the Guinea Interministerial Committee for Response Against the Ebola Virus, the Liberia Ministry of Health and Social Welfare, the Sierra Leone Ministry of Health and Sanitation, and the World Health Organization.    
Foresight Africa 2015: Eradicating Ebola and Strengthening African Health Systems
A heavy disease burden, underpinned by malaria, HIV/AIDS and tuberculosis, continues to erode human welfare and economic potential in Africa. However, in 2014, no disease was more destabilizing than the Ebola virus, which, by mid-December, had killed 6,373 people and affected nearly 18,000 in the three hardest-hit countries?Guinea, Liberia and Sierra Leone. In addition to the health emergency caused by the outbreak, the most-affected countries have experienced severe economic consequences, with their agriculture, mining and tourism sectors suffering negative growth in 2014.