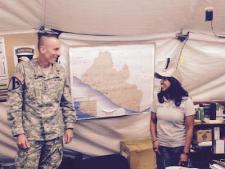 Link: Ebola Digest Monday 26 Jan
Tuesday, 27 January, 2015
As we ease into 2015, we'll continue to run these regularly for the time being - the link to the most recent edition of the regular Ebola Digest. 
There's a huge amount of info in this excellent resource and we suggest you check out the source. In the meantime we've reproduced the country-specific section of their news digest below, in the hope it may be of particular interest and use to our readers. Today's article image: "Civ-Mil at its best! Commanding General Gary Volesky of the 101st Airborne Division and USAID/OFDA DART member Sonia thank each other for Ebola response collaboration. Photo via Twitter @theOFDA"
That link again: http://eboladigest.blogspot.co.uk/2015/01/ebola-digest-mon-11615.html
REGIONAL SURVEILLANCE
Guinea
Community police help stop Ebola in Guinea
UNDP--As Guinea looks towards recovery from the Ebola epidemic, the United Nations Development Programme (UNDP) is training hundreds of community police officers to help keep case numbers down and prevent future outbreaks. 450 newly trained officers have begun working with communities in Matoto, in Guinea's capital Conakry, to help stop the spread of Ebola through public awareness raising on ways to avoid infection and build more trust between the public and the security services.
Guinea's Grand Imam Pulls No Punches In His Ebola Message
npr--Religious leaders must play a role in stopping the outbreak in this West African country, the cleric says. And that will mean changing not only attitudes but funeral practices.
Senegal opens Guinea border as Ebola recedes
Senegal reopened its land border with Guinea on Monday, pointing to the "significant efforts" of its neighbour in fighting an Ebola outbreak that has claimed thousands of lives.
President Conde seeks IMF Ebola compensation
President Conde seeks IMF Ebola compensation President Alpha Conde of Guinea has said that he is not worried about the upcoming presidential elections because he is focused on overcoming Ebola which has killed thousands of people and continues to ravage the economy.
Ebola outbreak: Stigma of caring for patients in Guinea
bbc--Stigma of caring for patients in Guinea People who help those with Ebola in West Africa have to overcome not just the stress and danger of that role, but also stigma and social isolation. Despite the international response, the job of caring for patients often falls to local people.   
Cancel debts and we can fight ebola, pleads Guinea
Guinea wants its national debt to be cancelled to aid the fight against ebola, arguing that interest payments are draining its health budget. President Cond, leader of the impoverished west African country where the outbreak began, will use this week's African ;...
Mistrust, Anger Holds Guinea Back From Fighting Ebola
npr.org--Guinea is 80 percent Muslim, and adherence to burial customs that include touching and kissing dead bodies has greatly contributed to the spread of Ebola. Now the Grand Imam is tackling the issue. Copyright ?? 2015 . For personal, noncommercial use ;...
Liberia
Liberia Entering Last Lap in Ebola Crisis
voa--A senior Liberian official says most of his country is Ebola-free and he is optimistic that cases of Ebola can be brought down to zero in a matter of weeks. Ebola cases in Liberia have declined from a peak of more than 300 a week in August to fewer than 10 per week in January.   Liberia's Minister for Commerce and Industry, Axel Addy, said Monday that 13 of 15 counties now are reporting zero cases of Ebola for 21 days, the period of incubation for the disease.      
UNICEF Official Commends Liberians for Reversing Ebola
An official of the United Nations Children's Fund (UNICEF) has commended Liberians for volunteering to spread Ebola awareness and subsequently reverse the spread of the deadly virus in the country. The Director of Program Division of UNICEF, Ted ;...
USAID broadens effort to correct Ebola misinformation in Liberia
USAID broadens effort to correct Ebola misinformation in Liberia An Ebola response team educates a town about the disease. A social mobilization project by the U.S. Agency for International Development aims to reach more than 2 million people to correct misinformation about Ebola.  
Panta District Recorded No Ebola Case in 2014
Official Panta District in Bong County recorded no case of Ebola in 2014, the district's Commissioner Wellington K. Bellepu has disclosed. He attributed this to the citizens' adherence to the preventive measures announced by the Health Ministry and its partners ;...
Ebola Outbreak: Only 5 cases of disease left in Liberia
Only 5 cases of disease left in Liberia Liberia lost 8,600 people to the disease, accounting for the highest number of casualties in the worst Ebola outbreak ever recorded. Published: 1 minute ago; 'Jola Sotubo.    
200 Children Orphaned By Ebola Virus in Liberia's West Point
Presently we have over 200 hundred children who are made orphans and all we do is to encourage their caretakers to play the role as their real parents.??? Dickson Tarweh, Head of Psychosocial Counselors in West Point ;...
Preventing Ebola in Liberia's Secret Bush Schools
As Liberia continues to make gains in the fight against Ebola, Global Communities is partnering with traditional leaders to hunt down remaining infection threats in one of the most secretive institutions in the country. ?Bush schools? teach behaviors and rituals that prepare youth for adulthood within traditional Liberian society. On Jan. 19, Global Communities launched a national Special Traditional and Cultural Engagement initiative to encourage traditional leaders at bush schools to engage in Ebola prevention. ?The goal is to stop traditional practices at these schools for now, because some practices support Ebola transmission,? said Global Communities Country Director Pieter deVries.    
Sierra Leone
A Plan for Community Event-Based Surveillance to Reduce Ebola Transmission — Sierra Leone, 2014–2015
CDC--Ebola virus disease (Ebola) was first detected in Sierra Leone in May 2014 and was likely introduced into the eastern part of the country from Guinea (1). The disease spread westward, eventually affecting Freetown, Sierra Leone's densely populated capital. By December 2014, Sierra Leone had more Ebola cases than Guinea and Liberia, the other two West African countries that have experienced widespread transmission (2). As the epidemic intensified through the summer and fall, an increasing number of infected persons were not being detected by the county's surveillance system until they had died.Instead of being found early in the disease course and quickly isolated, these persons remained in their communities throughout their illness, likely spreading the disease.
Learning From Ebola in Sierra Leone
The Ebola crisis has provided the greatest test of the country's security sector since 2002, not least in the need to restrict population movement through checkpoints and quarantines. A look at the strengths and weaknesses of this effort reveals much about the ;...
President Koroma Speaks On Ebola
President Koroma Speaks On Ebola We have been ensuring a steady downward trend in the number of Ebola cases in Sierra Leone over the past seven weeks and I wish to express my deep and sincere gratitude to all those who have contributed to this achievement. In my working visits to all ;...
On Ebola front line, first glimpse of end to epidemic
sierra leone times--Here at the front line of the Ebola epidemic, the tide seems to be turning against the disease. A military-style operation to fight the outbreak in Sierra Leone - the worst-affected country - has helped to dramatically reduce new cases, ;..   
Sierra Leone: Ebola Outbreak Updates - January 24, 2015
Source: Government of Sierra Leone    
Sierra Leone: Ebola Virus Disease - Situation Report (Sit-Rep) ? 24 January, 2015
Source: Government of Sierra Leone   
Sierra Leone: China Intensifies Support to End Ebola
The Chinese Ambassador to Sierra Leone, Zhao Yanbo has described Sierra Leone as a true friend that deserves every possible assistance that would boost its overall development. Presenting the donation of Medical Personal Protective Equipment to the Ministry of Health and Sanitation on behalf of his government and the People of China at a ceremony held at the Central Medical Stores Conference Hall in Freetown, Ambassador Yanbo reiterated his Government commitment and solidarity to forge ahead with the challenges to end the Ebola Epidemic in the country.    
SITREPS
USAID: West Africa - Ebola Outbreak Fact Sheet #17 (FY 15)
USAID--Malian authorities and WHO announce the end of the EVD outbreak in Mali following two 21-day cycles without anew confirmed case in the country. USAID/OFDA partners commenced operations at the Voinjama town EVD treatment unit (ETU) in Liberia's Lofa County on January 14. The Government of Guinea (GoG) officially reopens public schools countrywide; preparations to reopen schools in Liberia and Sierra Leone remain underway.
IOM regional response to Ebola Crisis, 23 January 2015
IOM delivered 6,500 Emergency Interim Care Packages for suspected Ebola cases to implementing partners in Sierra Leone on 16 January 2015. IOM conducted field visits to Port Loko and Makeni in Sierra Leone on 15 and 16 January 2015 to meet with implementing partner Oxfam at their field offices to map out next steps on training and coordination with each District Ebola Command Centre (DERC). IOM began installation of generators, WIFI and IT equipment to retrofit 15 Provincial Emergency Operations Centres in Guinea-Conakry. IOM conducted a border assessment in Grand Cape Mount County in Liberia. IOM conducted Active Case Finding and Ebola prevention outreach at the Gba-Jakeh Marketplace in Senjeh district in Liberia.