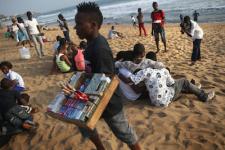 Link: Ebola Digest Monday 2 Feb
Tuesday, 3 February, 2015
As we ease into 2015, we'll continue to run these regularly for the time being - the link to the most recent edition of the regular Ebola Digest. 
There's a huge amount of info in this excellent resource and we suggest you check out the source. In the meantime we've reproduced the country-specific section of their news digest below, in the hope it may be of particular interest and use to our readers. Today's article image: "FEAR FADING Beachgoers in Monrovia, Liberia, recently ravaged by Ebola. As fear of the virus ebbs, Liberians are slipping back into their daily rhythm. Credit John Moore/Getty Images"
That link again: http://eboladigest.blogspot.co.uk/2015/02/ebola-digest-mon-2215.html
REGIONAL SURVEILLANCE
Guinea
Guinea: a story of hope about a child orphaned by Ebola
Save the Children--Bashir* is barely three months old. He's been through more in that short time than many people manage in a lifetime. Bashir is an orphan. His mother died from Ebola, along with six other members of his immediate family. He is one of thousands of children in West Africa who have lost their parents to Ebola. One of thousands of children who are vulnerable and facing a harsh struggle to survive. One of thousands of children who have faced unthinkable tragedy before their lives have really begun.
Acting quickly and effectively for agriculture and food security in Guinea
In January 2015, the Ministry of Agriculture of Guinea, the Food and Agriculture Organization of the United Nations (FAO) and the World Food Programme (WFP) published the rapid assessment report on the Ebola Virus Disease (EVD) outbreak?s impact on agriculture and food security. The findings of this assessment, carried out between 14 October and 3 November 2014, show a significant deterioration in households? food security. The outbreak has had a considerable impact in affected areas, especially on markets, agricultural and livestock sectors and sources of income such as agricultural labour, small shops and hunting and selling bush meat. According to the assessment?s findings, the coming farming year will see a fall of 4 percent nationally for rice production, the main food staple for Guinea?s population. In affected areas, 74 percent of the communities interviewed said they had reduced their number of meals and 59 percent admit that they have eaten...  
Guinea Ebola Situation Report 28 January 2015
The number of new cases of Ebola in Guinea fell for a fifth week. There were 103 new cases reported, among which 25 are confirmed, bringing the total number of cases in Guinea to 2,971 (2,569 confirmed, 332 probable and 16 suspected cases). Mali, in the Labé region, reported its first case of Ebola. UNICEF has deployed Rapid Response Team for Social Mobilization and distribution of hygiene kits. UNICEF?s Deputy Director of UNICEF for programmes, Geeta Rao Gupta, made a two-day visit to Guinea. She started her trip by visiting a health checkpoint at the border crossing in Pamelap before moving on to a school in Pamelap and the CTCOM in Friguiagbé. She then met with officials in Forecariah , Kindia and Conakry as well as humanitarian actors, donors and beneficiaries. UNICEF Guinea partnered with the Ministry of Youth to set up 200 cinema clubs across the country.  
Liberia
BBC--Yes, the Ebola epidemic was a disaster. Its terrible effects are still present - especially among the poorest in society. President Ellen Johnson Sirleaf said in her recent State of the Nation address that the disease had "threatened our very existence". Nearly 4,000 Liberians died from the outbreak. But now, thanks to Liberians changing their behaviour, and a massive international aid effort, there are only six confirmed cases of Ebola left in the country.
Ebola and Security Sector Reform in Liberia
Africa Front Page--After an autumn blitzkrieg, the U.S. military has begun talking about the end of Operation United Assistance, the anti-Ebola mission in Liberia. So says AFRICOM Commander Gen. David Rodriguez, citing "significant progress" achieved towards the mission's end. A quiet end indeed to what was not months ago America's biggest news story – big enough to produce TIME's Person of the Year, 'the Ebola Fighters'. During the scare Haz-mat suit makers saw heir stock leap,  schools one thousand miles from Dallas temporarily closed, and lawmakers advocated sealing off American borders from West African travel. But there is an element to this drama that has gone overlooked: Service members arriving in Liberia were greeted by American service personnel already there.
An Empty, Underused Medical Outpost Could Be the Future of the Ebola Fight
Foreign Policy--John Nel was sent to build a lifesaving Ebola clinic in the middle of the Liberian jungle. It opened too late to help fight this outbreak, but could help prevent a new one. In December 2014, an imam in the Liberian county of Grand Cape Mount decided that he could cure Ebola through prayer and the laying-on of hands. He traveled from village to village throughout the jungle along the Sierra Leone border, preaching and healing through ritualistic methods. Grand Cape Mount is home to much of Liberia's Muslim population, and the Islamic traditional healer found a receptive audience. In the rest of the country, public education campaigns have effectively put an end to rumors and practices such as this, but, with few radio stations or billboards, outreach in Grand Cape Mount relied on word of mouth, and the county was still a bastion of ignorance. By the end of the month, the imam and several of his family were dead, his village and three others were quarantined, and 49 new Ebola cases had been reported, the biggest flare-up in Liberia in months. At least five of the infected later died.
Liberia Ebola Daily Sitrep no. 252 for 23rd January 2015
Government of Liberia
bbc--Yes, the Ebola epidemic was a disaster. Its terrible effects are still present - especially among the poorest in society. President Ellen Johnson Sirleaf said in her recent State of the Nation address that the disease had "threatened our very existence".
As Ebola Wanes, Liberia Without Health Minister
all africa--Liberia's longest serving Health Minister under the regime of President Ellen Johnson Sirleaf, Dr. Walter Gwenigale is said to have exited the Ministry of Health and is no longer holding on, after being asked to do so by the President last year.   
Liberia Trader Survey Report January 31, 2015
Between the weeks of November 3 and December 22, 2014 FEWS NET worked with Mobile Accord (GeoPoll) to carry out three rounds of SMS-based trader surveys in Liberia and Sierra Leone to gather information on the status of market activities and operating costs in areas made inaccessible by the Ebola epidemic. Liberia and Sierra Leone are FEWS NET remote monitoring countries. In remote monitoring countries, analysts typically work from a nearby regional office, relying on a network of partners for information. As less data may be available, remote monitoring reports may have less detail than FEWS NET presence countries The SMS-based survey results serve to corroborate key informant and partner reports on market activities and serve as inputs to FEWS NET?s integrated food security analysis on the impacts of the Ebola outbreak.   
Liberian Authorities Delay Reopening of Schools for 2 Weeks
voa--Liberian authorities have delayed by two weeks the reopening of schools closed since July last year due to the Ebola outbreak.   The government announced in January the schools would reopen Monday, February 2, but Anthony Nimely, Deputy Minister of Education for Administration, Research and Development, said the government decided to postpone the reopening to February 16 to give parents enough time to register their children.  ?Schools are not going to open on Monday.  Rather, we have allowed registration to continue up to the 13th of February because the turnout in the number of children that are registering is low. And so, that has been considered and registration is extended to the 13th of February, meaning that schools are not going to open on the 2nd of February, as initially planned,? he said.        
Liberia Ebola Situation Report no. 71 - 28 January 2015
According to the Ministry of Health, as of 25 January 2015, the cumulative total of suspected, probable and confirmed cases of Ebola Virus Disease (EVD) in Liberia stood at 8,577. Case incidence declined from a peak of over 300 new confirmed cases per week in August and September 2014 to 0.5 confirmed case per day in the past week, with just 5 confirmed patients being treated in Ebola Treatment Units (ETU). 5,307 children have been identified as affected by EVD. The Liberian government defines ?affected? as quarantined, unaccompanied and separated children, in treatment and discharged. Orphans are children who have lost one or both parents/primary caregivers. The Child Protection sub-Cluster estimated that as many as 7,500 children may have been orphaned due to EVD.    
[VIDEO] Liberia Ebola centre dismantled as cases plummet
BBC--An Ebola centre in Liberia, one of the largest in the world, is being partially dismantled, because it is no longer needed. Mark Doyle was shown round the centre by Duncan Bell of the medical charity Medecins Sans Frontieres.
How a Tree Helped a Village with Ebola Control
PLoS--The Ebola epidemic continues to ravage west Africa, killing about half of the people who contract the virus.  Those lucky enough to recover face the stigma of having been infected and the subsequent challenge of reintegration into their devastated communities. Many children are left orphans. In Liberia the number of new cases has fallen in many areas, including cities, while hotspots continue to develop in rural communities. Contrast that with the situation in Sierra Leonewhere the number of new infections increased rapidly over the past few weeks but may have leveled off more recently.
Sierra Leone
[VIDEO] Ending Ebola and boosting business in Sierra Leone
UNDP--Sariatu Kamara owns a beauty salon in Sierra Leone's capital Freetown. The sole breadwinner for her family, her business has been hit hard as people stayed away through fear of Ebola. "Before Ebola this place was fine, but during the Ebola time business was not good, it's difficult" she said. "People are afraid to come because of body contact, they are sensitized not to touch people." Businesses and livelihoods across the worst affected countries have been battered by Ebola, particularly those that involve human contact.   
IOM Sierra Leone Ebola Response Situation Report Issue 9, 25-31 January 2015
On January 26-27 IOM Sierra Leone attended the Mano River Union Technical Meeting on Border Surveillance and Disease Control. On January 29-30 IOM Sierra Leone attended the UNMEER and UN system?s EVD Survivor Support Meeting in Dakar, Senegal. IOM?s Emergency Care Kit distribution continues in the Western Area wards of John Thorpe, Kontolloh, Rokel and Thunderhill . On January 28-29 one 4-person mobile training team was deployed to Bo District to train 11 swab collectors. This marks the beginning of the Mobile Training segment of the Training Academy.    
On the frontline with Ebola quarantine workers in Sierra Leone
sierra leone times--The PHE said the individual has been admitted in the Royal Free Hospital in London for clinical assessment. The person will be monitored for the remainder of the 21-day incubation period. The person has been exposed to the Ebola virus, but has not been ;...
For Charles, now aged one-and-a-half, the ordeal began in August 2014. That was when his parents tested positive for Ebola and died shortly after at the Paramedical Ebola Holding Centre in Makeni, Sierra Leone. Unfortunately, the tragedy didn't end there.
NAC gives food items to quarantine homes
The New Apostolic Church (NAC) Sierra Leone has donated food items to Ebola quarantined homes in Ward 391 of Constituency 111 along Wilkinson Road, in Freetown, a gesture requested for by the Councillor of Ward 391, Mariatu Kamara.
Sierra Leone Ebola and the Arab world
The Ebola outbreak in Sierra Leone has exposed many things: from the obvious to the discreet, from the sublime to the ridiculous, from the altruist to the self-serving ??? both at the leadership and the followership. The outbreak has also exposed the ;...   
Projected Treatment Capacity Needs in Sierra Leone
The ongoing outbreak of Ebola Virus Disease in West Africa requires immediate and sustained input from the international community in order to curb transmission. The CDC has produced a model that indicates that to end the outbreak by pushing the reproductive number below one, 25% of the patients must be placed in an Ebola Treatment Unit (ETC) and 45% must be isolated in community settings in which risk of disease transmission is reduced and safe burials are provided. In order to provide firmer targets for the international response in Sierra Leone, we estimated the national and international personnel and treatment capacity that may be required to reach these percentages. Methods: We developed a compartmental SEIR model that was fitted to WHO data and local data allowing the reproductive number to change every 8 weeks to forecast the progression of the EVD epidemic in Sierra Leone.    
Rebuilding Sierra Leone after Ebola
Rebuilding Sierra Leone after Ebola A year ago most of the world had never heard of Ebola. It has now. This deadly virus, first detected in a village along the Ebola river in the Congo in 1976, has now devastated this part of West Africa and even spread its tentacles to Britain and elsewhere.
Life - and death - in Sierra Leone's Ebola quarantine zones
If a fresh infection develops within that time, the quarantine period starts over again, even though it means a prolonged risk of exposure for non-sick residents of the house. Right now, there is little other option. The Camara household is a case in point. Since a ;...
As people go back to their old tricks Ebola Here I Stay
sierra express media--As the government decides to allow the people to be moving from one end to the other; the people have started doing just that but amazing in the exercise is that people in some areas are totally going against the bylaws imposed by authorities at all levels.   
Ebola Virus Disease - Situation Report (Sit-Rep) ? 1 February, 2015
Government of Sierra Leone    
Ebola Outbreak Updates - February 1, 2015
Source: Government of Sierra Leone
Sierra Leone Healthcare Worker Defies the Odds to Survive Ebola
All Africa--A Sierra Leonean health care worker treated at the British Military run Ebola Treatment Centre in Kerry Town has survived the disease. Sewa Mansaray (21) was admitted before Christmas just after two of his nursing colleagues and housemates had been released. Sewa was seriously ill, but defied the odds and the experts, as it was thought for a while that he was too ill to survive this terrible disease, to pull through. Known to his friends as 'German Man' because of his strength, Sewa was helped out of the 20 Bed Ebola Virus Disease Treatment Centre by the British and Canadian military doctors and nurses who had cared for him for the last three weeks.
He Gave Us Hope: The Mental Toll
UN Blog--"The doctor called me and told me that my son was having Ebola symptoms," said Brownetta, a mother in Sierra Leone. "It's terrifying, because there is no cure, so you're just praying to God that your child will survive." Not knowing whether or not her son Tony had Ebola, Brownetta watched helplessly as he got admitted to a treatment unit.
The virus that has claimed over 8,000 lives in West Africa has also left a trail of emotional trauma throughout the region. How do you combat the heartbreak and mental effects of watching your parent or child die? How do you deal with the emotional and psychological trauma of fighting for your own life? These are questions being asked in West Africa, where Ebola has put thousands of people through extraordinarily stressful events that have shattered lives, communities, and the region. Dash Karbar is a psychosocial worker working in the Island Clinic Ebola Treatment Unit in Sierra Leone and works tirelessly to help patients and their families deal with the emotional toll of the Ebola outbreak.
How an Ebola survivor is now fighting the outbreak
Intl Medical Corps--Mariatu is an extraordinary woman. She lost her daughter, her sister and most of her family to Ebola. She nearly died herself, first from the ravages of the virus and then to the crushing psychological scars it left behind. But somehow Mariatu survived and found her way to the International Medical Corps Emergency Treatment Centre at Lunsar. To describe Mariatu as a survivor is an understatement. Before Ebola she survived the ravages of Sierra Leone's bloody civil war, negotiating for her life first with the rebels and then with the government forces. Somehow she walked the line and preserved her family and her home. Then Ebola came. Her sister was a nurse, caring for the early cases of the virus before she was taken ill and died. Ebola swept through the community and Mariatu's family. She lost cousins, aunts and uncles. Then it took her daughter. Eventually she too contracted Ebola. She remembers the fear that the disease brought with it.
SITREPS
Sierra Leone: UN Mission for Ebola Emergency Response (UNMEER) External Situation Report, 2 February 2015
Secretary-General Ban Ki-moon assures that UN will stay the course on EVD response efforts Overview of Needs and Requirements (ONR) funding gap- USD 1 billion Response partners support provision of essential services in affected countries Key Political and Economic Developments On 30 January in Addis Ababa, the 24th session of the Heads of State and Government of the African Union was convened. In her opening remarks, the African Union Commission Chairperson, Dr Nkosazana Dlamini Zuma, praised the work of the 835 African health workers who were deployed to Guinea, Liberia and Sierra Leone under the banner of the African Union Support to the Ebola Outbreak in West Africa (ASEOWA); thanked the African private sector for their partnership with the African Union in the fight against Ebola; and underscored that ?We must continue to mobilise our people to contribute to the campaign and to keeping health workers ..   
Sierra Leone: A Model of the 2014 Ebola Epidemic in West Africa with Contact Tracing
A differential equations model is developed for the 2014 Ebola epidemics in Sierra Leone and Liberia. The model describes the dynamic interactions of the susceptible and infected populations of these countries. The model incorporates the principle features of contact tracing, namely, the number of contacts per identified infectious case, the likelihood that a traced contact is infectious, and the efficiency of the contact tracing process. The model is first fitted to current cumulative reported case data in each country. The data fitted simulations are then projected forward in time, with varying parameter regimes corresponding to contact tracing efficiencies. These projections quantify the importance of the identification, isolation, and contact tracing processes for containment of the epidemic.   
MSF Ebola Activities in West Africa - 27 January 2015
Médecins Sans Frontières Country: Guinea, Liberia, Sierra Leone Ebola crisis update - 30 January 2015   
People Affected by Ebola Virus Disease (EVD), 30 January 2015   
Ebola crisis update - 30 January 2015
Since the Ebola outbreak in West Africa was officially declared on 22 March in Guinea, it has claimed more than 8,600 lives in the region. The outbreak is the largest ever, and is currently affecting three countries in West Africa: Guinea, Liberia and Sierra Leone. Outbreaks in Mali, Nigeria and Senegal have been declared over. A separate outbreak in DRC has also ended. During the last weeks, a downward trend of new cases has been reported in Médecins Sans Frontières (MSF) Ebola management centres across the three affected countries, with 50 confirmed cases in its eight centres last week.