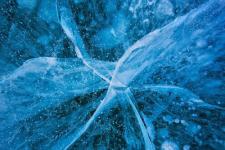 Norway to open ice to oil?
Thursday, 5 February, 2015
Here we go… the world's been wondering for a while now what's going to happen around the chilly question of how, whether and when to open up the poles to resource exploitation.  And who would have thought the next chapter might be written by, of all the enlightened states, Norway—the very nation that last year proclaimed it was reviewing all investment in extractives, mainly due to environmental concerns.
Now, says AFP, "Norway wants to redefine the contours of the Arctic ice edge… in a controversial decision that would further open the Barents Sea to oil and gas exploration." 
Within hours of the decision, the Norwegian oil ministry offered companies "57 blocks, nearly all in the Barents Sea, some in the most northern waters ever opened for exploration," despite a 2013 agreement between the minority government and its centre-right allies that "prohibits all activities in the rich and fragile ecosystem at the ice edge."
The loophole? In one of the more self-justifying developments you might have anticipated, it's actually global warming. The ice is on the run, and has shrink back so far north now that stakeholders (and there are some chunky stakes) are arguing about where the edge actually is.
"It's important to have updated knowledge on where the fragile areas are located," Norway's Minister of Climate and Environment Tine Sundtoft said in a statement (of the obvious); "therefore I've asked the Norwegian Polar Institute to update their calculations."
The new sea ice map is "based on satellite data from between 1984 and 2013, replacing a current definition that uses material collected over two decades up to 1989… This allows the government to argue that the new oil concessions are located far from the sea ice, whereas by the old definition a number of blocks would have been off limits."
There were objections when this plan was mooted in 2014, which resulted in delays to the licensing bid, and the Norwegian parliament still has to agree this for it to happen. This isn't a given, as two centre-right parties, the support of which is required for a majority, said earlier this week that they opposed the re-drawing of the boundaries. Environmental groups, unsurprisingly, aren't happy either.
Prime Minister Erna Solberg argued rather disingenuously that government is "not moving the borders of the ice edge," because "nature… is moving the boundaries of the ice edge." With a little help from its not-especially-friendly-friends, we imagine.
Read the original AFP piece here.
ENDS
https://au.news.yahoo.com/a/26050045/norway-updates-arctic-ice-map-in-bo...
http://www.csr21.org/news/geopolitical/worlds-biggest-fund-turned-extrac...
http://www.csr21.org/news/geopolitical/baird-putin-dance-round-pole