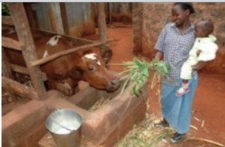 Wednesday, 12 November, 2014
The UK Governments development agency, DFID, today announced a £9.04 million deployment of cash from the CDC managed Impact Investment Fund (if anyone fancies sending us a schematic of how all this money fits together we would be vaguely interested) towards helping farmers in Ghana, Cote d'Ivoire and Mali. The goal of this effort is no lower than to lift people out of poverty but, CSR21 summarises the nuts and bolts as:
The investment will be made into Injaro, a West African agriculture-focused fund, which makes sustainable investments into small and medium-sized agricultural enterprises (ok, if anyone has a schematic of what fund, managed by who are going, is putting money into what fund, managed by who- we and our simplistic minds would be very grateful).
It would seem this mutal fund will deploy money to help secondary agriculture business (export, trading, markets, serives)  increase demand for crops from farmers. The drive to help farmers is not soley contrained to not giving actual farmers any investment but will also involve helping to buy better quality seeds and fertilizer.
It would seem DFID is looking to provide the means for scale and trading (Injaro) into the African agricultural enviroment providing capex to do more than subsitance farming. 
Co-funding looks also to have been secured with the DFID release outlining:
"Alongside the investment from the DFID Impact Fund, investment has also been leveraged from the French Development Finance Institution Proparco (£4.2 million) and the Dutch Development Finance Institution FMO (£6 million). Injaro already has £10.2 million of private capital from Lundin Foundation, Soros Economic Development Fund and Alliance for a Green Revolution in Africa. The new investments announced today will give the Fund scale and impact to build a track record to bring further private investment in the next round. As part of this Programme, DFID is supporting B Labs, a US-based not-for-profit company, to develop B Analytics. The £225,507 grant will help build a customisable platform for measuring, benchmarking, and reporting on a business' social and environmental impact."
Jerry Parkes, CEO of Injaro, said:
"The Injaro team is proud to have secured investments simultaneously from 3 reputable institutions with a long track record of African investments. These new investments from the UK, FMO and Proparco give our fund scale and legitimacy in the impact investment space, helping to build a track record that will attract further private investment into this emerging asset class. With an increased fund size of US$49m we hope to positively impact over 1 million smallholder farmers and low income persons in West Africa."
It will be interesting to see how the economic development of African agriculture is balanced against social changes. Does economic large scale farming mean moving away from the existance of small plots of landholdings? This is real, important, work being undertaken by DFID (or at least funded by) but the race for proserity in the rural economy left many by the way side in..England just a few hundred years ago. Sustainable economic growth in Africa will involve sensitivity to social change, especially in relation to land use, as much as it will investment. We should be mindful of the stirling success of unfettered market forces in post Soviet Russia. A little extreme? Let us know your views.