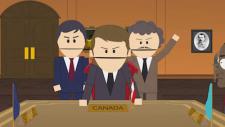 Canadian corporations - curious contradictory case
Theres a lot of chatter around backing up our position towards the end of last year that certain western governments really are prepared to force through "voluntary" CSR standards and best practices by using their support and advocacy as leverage for a sort of 'development by proxy'. Most recently we learn via miningweekly.com  that Canadian Trade Commissioner Service-Operations and Trade Strategy Bureau director-general Duane McMullen has been preaching this very gospel to the Prospectors and Developers Association of Canada conference.
There's nothing new here really, but the growing chorus does suggest something of a sea change. McMullen justifies this stance, which traditionally might be deemed aggressive, with the perspective that the "small number of firms whose behaviour risked spoiling it for everybody else" by failing to follow CSR best practice were, "harming Canada's reputation as well as harming the reputation of the industry".
Ergo, 'Companies that failed to reflect Canadian values and undertake meaningful engagement if a problem arose could risk losing the support and advocacy of Canada's foreign services,' which she described as "extremely valuable," McMullen noted, and 'continued abrogation of best practises would risk further escalation in the Canadian government's response, one that might jeopardise a company's eligibility to obtain financing from Export Development Canada or from other multilateral financial institutions that used the International Finance Corporation standards.'
The full piece is available here, and among other things touches on:
- How the 2014 version of the Canadian government CSR strategy represents the latest version of a fine tuning process ongoing since 2009 ("we learned that, while Canada is far from perfect in CSR, we are really good if you compare ourselves with other countries. Indeed, you can make a strong case for us being a world leader")
- The consultative, multi-stakeholder process behind it 
- How "patching up problems early," before they become serious, is "really important"
- How more remains to be done to support host governments in managing and regulating their extractive sectors, to relieve the burden on mining companies
- the host nation capacity gaps in terms of bureaucracy and resource expertise that exacerbate this problems, and how help in this regard would develop not only those nations but the whole industry worldwide.
In the meantime, however, rumblings are heard up north about how "The Canadian Network on Corporate Accountability (CNCA) is concerned that International Trade Minister Ed Fast is wasting public funds with this week's appointment of a new Corporate Social Responsibility (CSR) Counsellor" who is 'set up to fail.'
All is perhaps not as rosy in the garden as it initially seems (though it's hard to find fault with McMullen's speech per se, not as reported at least; but there does seem to be something of a worrying loophole in the new CSR strategy. From CNW:
Over 95,000 Canadians wrote to Parliament last year to call for the creation of an extractive-sector Ombudsman. Last October, a private member's bill to create such an Ombudsman… received support from all opposition parties in Parliament but was voted down by the government.
Since its launch in 2010, Canadian mining companies have avoided the CSR Counsellor's grievance mechanism process, choosing instead to walk away and effectively shut down any review of their conduct. 
The updated CSR strategy announced by Minister Fast last November still allows extractive sector companies to pull the plug on the review process whenever they want. Companies that shut down a review of their conduct will continue to be able to raise funds on Canadian stock exchanges, or even receive public funds from Export Development Canada; the government strategy says merely that company obstruction of a CSR review will be "taken into account" by EDC.  
Instead of real sanctions, the government hopes to compel companies to act more constructively by threatening to refuse letters of recommendation or a spot on a Canadian trade mission.
"Both industry and civil society have found the CSR Counsellor's Office completely ineffective. To be meaningful, it needs to have real powers of fact-finding, public reporting and remediation," said Ken Neumann, National Director of the United Steelworkers, a CNCA [Canadian Network on Corporate Accountability] member.
The CNCA's Open for Justice Campaign calls for creation of an extractive-sector Ombudsman and legislated access to Canadian courts for non-nationals harmed by Canadian companies abroad. The CNCA brings together 29 Canadian NGOs, trade unions, religious organizations and solidarity groups to establish mandatory corporate accountability standards for Canadian extractive companies operating abroad, especially in developing countries. 
Watch this space…
ENDS
http://www.miningweekly.com/article/canadian-companies-flouting-csr-best...
http://www.csr21.org/news/citizenship/video-csr21-101st-minesite-forum
http://www.newswire.ca/en/story/1496309/new-mining-counsellor-set-up-to-...