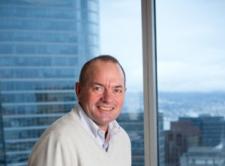 Lundin Mining Takes A CSR Lead From A Motorcycle Trip Of Yesteryear
Thursday, 5 November, 2015
It's an interesting thing the internet.
If you type Lukas Lundin's name into address bar of Google Chrome, the autocomplete programme will present you with the option: "Lukas Lundin yacht".
For indeed, Mr Lundin does rank amongst the world's super-rich as a result of his portfolio of mining and resources assets predominantly held through his listed vehicle Lundin Mining.
So that's one aspect – ostentatious wealth.
On the other side of the internet coin, a quick visit to Lundin Mining's own website reveals something equally interesting – of all the world's mining companies Lundin gives perhaps the biggest play to Community and Social Responsibility.
Assuming that precedence runs from left to right on the top of a page, Lundin rates what it calls "Corporate Responsibility" second only to the interests of its investors in terms of the options presented to first time visitors, and ahead of both "Operations & Development" and "News".
Tokenistic?
Perhaps.
But as CSR21's own Transparency Index highlighted last year, the mere mention of CSR by a mining company in any of its literature, online or otherwise, remains the exception rather than the rule.
So what is it about Lundin that makes it put its own CSR efforts so much to the fore?
One thing might be the hate page that accuses Lundin and various of his business partners of being responsible for the murder of African children without citing any sources or even making any concrete allegations.
Nonetheless, the images on this hate-page show up on any search on Lukas Lundin. Perhaps the irate webmaster remains upset by the activities of Lukas Lundin's father, who was reputed to have been a sanctions-buster in the days of the apartheid regime.
Or perhaps the issue is more to do with Lundin Mining's activities in the Democratic Republic of Congo, which remains a murky place to do business, although specific allegations are thin on the ground.
A more enlightening internet destination is the home page of Lundin's own charitable foundation, the Lundin foundation.
This, says Lundin's own commentary, was born after he and his brother Ian took a motorcycling trip from Cairo to Cape Town in 2005 and observed poverty on the African continent at first hand.
"From this trip emerged two guiding observations", writes Lundin.
"First, that poverty reduction is not possible without sustainable economic growth. And second that increased investment in entrepreneurs and small and medium-sized enterprises together with targeted technical and managerial assistance, is needed to stimulate broad-based job and wealth creation."
A plan was born.
By the end of 2014 the Lundin Foundation had invested in 74 small and medium-sized businesses which generated over US$90 million in revenue and employed over 3,700 people.
Not a bad effort, even if the Foundation's description of Lukas Lundin's activities in this regard as following in the "adventurous spirit" of his father does sound a trifle odd.
How deeply all this goes is open to question, of course, as philanthropy among the rich and famous is often no more than a networking or socialising tool.
But the read across the Lundin Mining is at least real.
On human rights Lundin Mining is particularly touchy about its operations in the Democratic Republic of Congo, which it recognises are more liable to scrutiny than its mines in Europe or North America.
Tenke Fungurume Mining, in which Lundin Mining holds a 24 per cent stake, is the largest private foreign investment in the Democratic Republic of the Congo. As such, what happens there can carry a lot of weight in the rest of the country.
All Tenke staff are educated in human rights matters, and human rights training sessions are also conducted raised with the wider community, including local territorial police forces and the Mines Police.
The Congolese side of the Copperbelt is often described as the Wild West of Africa, but with Lundin's CSR policies set at the very top level, Lukas Lundin's hope must be that Lundin Mining's presence on the ground will act as a stabilising factor.